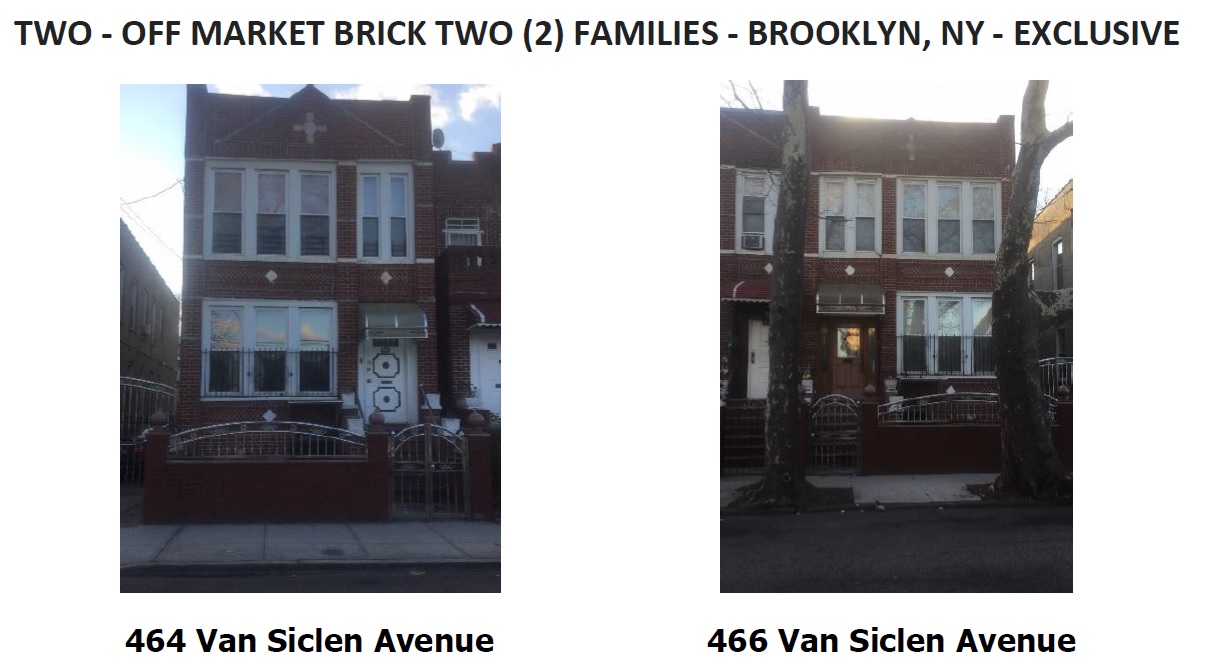 Safe Harbour Real Estate Group LLC presents 464 and 466 Van Siclen Avenue. A rare opportunity in the fast-gentrifying East New York section of Brooklyn! Located on a wide tree-lined street, these are two (2) family brick properties. Each boasts more than 2,200 square feet of livable space: 3 bedroom 1 bathroom over 3 bedroom 1 bathroom in each. These desirable units can be rented for upwards of $2,500+/month. The properties share a driveway, and both have two-car garages. The properties are just a few blocks from the Van Siclen stops of the C, and 3 trains, near Atlantic Avenue, Linden Boulevard, and all the new anchor tenants and businesses that have recently opened in the East New York area! Ideally, we are looking to combine both properties for sale.
*Competitively Priced at $879,000.00 each*
Buyers and Investors only For inquiries please email: info@shregroup.com
SAFE HARBOUR REAL ESTATE GROUP LLC
5 West 37th Street
New York, NY 10018
Licensed New York Real Estate Broker
The information contained herein has either been given to us by the owner of the property or obtained from sources that we deem reliable. We have no reason to doubt its accuracy, but we do not guarantee it. All zoning, buildable footages and uses must be independently verified. Vacancy factors used herein are an arbitrary percentage used only as an example. It does not necessarily relate to actual vacancy, if any. The value of this investment is dependent upon these estimates and assumptions made above, as well as the investment income, the tax bracket, and other factors which your tax advisor and/or legal counsel should evaluate. THE PROSPECTIVE BUYER SHOULD CAREFULLY VERIFY EACH ITEM OF INCOME, AND ALL OTHER
INFORMATION HEREIN.